KIA ORA! (A warm New Zealand greeting)
Our journey started on Tuesday, October 11, at 2:00 am, from our new home in Fort Pierce, Florida to Fort Lauderdale to catch a 7:05 am American Airlines flight to Dallas and then Houston. In Houston we collected our luggage and transferred to United for San Francisco and then finally to Auckland, New Zealand. Author's Note: The convoluted travel arrangements were due to my inability to allow for the day lost as we crossed the International Date Line. I had to rebook what was originally a simple plan. As the airlines cut flights due to staffing needs, the resulting connections became very ungainly. After 37 hours of traveling, we arrived in Auckland at 8:00 am and picked up our rental car. We planned an overnight at the Ibis Budget Hotel at the Auckland Airport to give ourselves a day to recover from the exhausting travel. However we still needed to eat. Author's note: A food tour guide gave me a list of the "best" dumplings in Auckland, along with ordering instructions for each location. I tried to book the tour, but Charles (www.foodcraft.co.nz) was out of town while we were in town so he graciously gave me his list and told me go make my own tour. This saved us about $260 US dollars! One place was closed for no apparent reason and we couldn't find another place but we ate dumplings in two places. We were mostly full and mostly exhausted so it was back to the hotel to call it a day.
Author's Note: New Zealanders or Kiwis, as they are often called, drive on the left. We were also debilitated from reciting the manta, "keep left, keep left, keep left, keep left," as we wrapped up our first-still-jet-lagged day on the North Island of New Zealand. You may to hear us continue to repeat this mantra throughout this blog.
We made one more dumpling stop for excellent dim sum at Mr. Lobster's Private Kitchen then headed to Tutukaka and Marlin's Ridge Bed and Breakfast. On the way we stopped at Little Manly Beach and then Big Manly Beach, just because we wanted to see the place called Manly Beach. Little Manly beach foreshadowed the wretched weather in our near future with giant waves moving up a diminishing shore.
On the road to Tutukaka we saw a sign for Fresh Oysters. They were delicious: some of the largest and meatiest oysters we ever ate.
When we arrived Marlin's Ridge Bed and Breakfast the weather declined to cooperate with our plans. The wind picked up and the skies dumped rain. The rising sea conditions prevented Tom from doing his planned dives on Poor Knight's Island, reputed to be among Jacques Cousteau's top twen­ty dive sites in the world. We rearranged the schedule with a hope that the weather would clear by Monday. For dinner we walked down the hill from our lodgings to Schnappa Rock Restaurant. Author's Note: Apparently we made a huge error in not making a reservation. Eventually we were seated and were served a good but overall not outstanding meal.
Author's Note: At Schanppa's we learned that you must go to the cash register­­­ to pay. They will never bring you a bill. I have no idea how long you could sit before you figured it out or they asked you to leave. We sat for almost an hour before we asked about the bill. We have more to learn . . . .
Meanwhile we filled one of our now empty days with an eight hour trip (four drving hours each way) to the northern-most point of the Island: the Cape Reinga Lighthouse. There is a well-maintained paved walk from the parking lot to the light house. Author's Note: Remarkable waves came from both the left and the right to converge at the bottom of the cliff. No doubt making this a very dangerous area. Despite my newly diagnosed plantar fasciitis I made the walk in about 1800 steps which Google tells me is just less than two miles.
Next day we started with breakfast at the Black Stump Bakery and discovered that Hare and Turtle lulled us into a false belief that all baked goods are created equal. The coffee was excellent but the pastries fell far short of their promise.
However, this did not stop us from proceeding to Whangarei Falls. A much shorter walk on a more natural path led us down the gorge to the waterfall and back to the parking lot.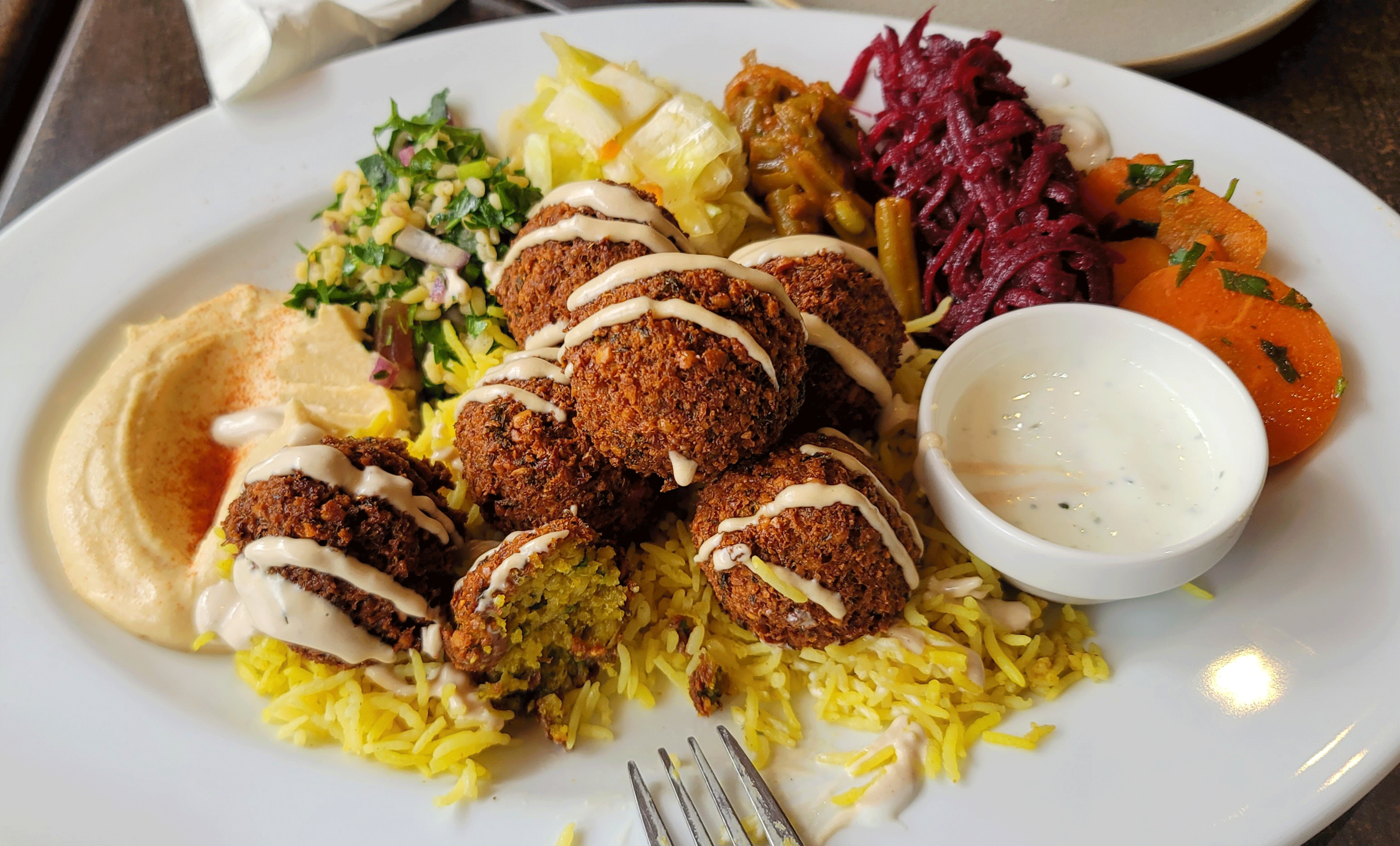 We stopped in the city of Whangarei for a delicious falafel plate on the way back to Tutukaka. Skies cleared during the day and Tom scheduled his Poor Knight's Island dives for Monday.
Author's Note: While Tom went diving I tried my hand at driving on the left - keep left, keep left, keep left, keep left - for a cup of coffee. While out on my adventure I noticed a couple of signs. One told me that, "The gathering of cockles and pipi is strictly prohibited." Honestly, I didn't know cockles were a real thing and I have no idea what pipi are. However before I could look up pipi, I noticed another sign: "Plan Your Route," with Tsunami evacuation information. Previously unaware that I needed to worry about Tsunamis, I return to Marlin's Ridge and drowned my concerns in laundry. Dive Report: The nudibranchs on the dive were amazing. In a dinner-plate-sized space there were over 12 of the tiny critters and many other macro creatures. However Tom's camera was too light and stayed on the boat, so he didn't get pictures. Also, the dive shop put him in a 7 mil wetsuit plus a 3 mil hooded vest with enough weight to sink an elephant (because that's what it takes with all that neoprene). The weight made his back hurt so he ditched the second dive. Great place to dive but it's still too early in the season for a great dive. That night we went back into Whangarei to Split Restaurant for superb seafood chowder, excellent fish and chips and some of the best roast lamb I've eaten.
Next morning with diving out of the way for a bit, on our way to the Hot Water Beach TOP 10 Holiday Park, we made a quick stop at the Whangarei Quarry Gardens. Author's Note: Whangarei Quarry Gardens is a great story of a community gathering together to make something beautiful out of an eyesore. Despite multiple fires and a flood they have managed to create and sustain an amazing garden. For instance: I have only seen one camellia bush in a garden in Columbus, Ohio. Here they had no less than twenty varieties of Camellia TREES. You can read more about the gardens here:
WhangareiGardens.org.nz Here are plants we've seen in our travels thus far.
Our next stop is the Superior Hot Water Beach TOP 10 Holiday Park. The Hot Water Beach is tide driven. There are incredibly hot springs under the beach that are only exposed at low tide. You situate yourself on the beach about 2 hours before low tide so you have time to dig your hole and create your "hot tub" to allow maximum enjoyment before the tide comes rolling back in. We already missed morning low tide and evening low tide was around 8:05 pm (too close to dark for comfort) so we opted for the 7:45 am low tide. We enjoyed some fish and chips in the park while a cheeky little bird begged for food. At one point Tom got up to get napkins and the little bugger tried to take his fries.
Next morning, promptly at 6:00 we arrived on the beach. Tom dug our hole (with the shovel loaned to us by the TOP 10 Park) and we soaked away all the aches and pains of the previous days travel.
After a shower we left Hot Water Beach TOP 10, grabbed some breakfast and headed to the Cathedral Cove Park and Ride. We caught a bus which took us as close to the trail to the cove as we could get. Author's Note: Ostensibly it was a 45 minute walk, however it took us (me) much longer to walk the over 2.25 miles. When we got to the bottom I was wondering how I would make it up again, when Tom spotted a water taxi sign. Yes they would take us back - not quite to the parking lot, but close enough. And yes, they would accept Tom's credit card. Salvation!
The Classic Cambridge TOP 10 Holiday Park in an "Executive Apartment" was our next home for a night. It situated us perfectly for our visit to Waitomo Glowworm Caves the next morning. Author's Note: A flood nine weeks earlier washed many of the glowworms off the walls but the cave was still quite colorful with their glowing tails - like lightening bugs, only stationary and blue.
Next up: Wairakei Terraces Thermal Spa in Taupo. A volcanic geyser feeds the pools with mineral rich water. The water is so hot that it must travel down terraces to cool before it reaches the pools you can enter.
There is also a walkway that illustrates some of the history of the indigenous Māori people. Read more about it here: wairakeiterraces.co.nz After some delicious Indian food at Malabar Restaurant, as we walked to our car the McDonald's DC3 plane parked (permanently) in from of the Taupo McDonalds caught our eyes. What a surprise!
Taupo, New Zealand McDonald's DC3 plane
We spent the night at the Superior Taupo TOP 10 Holiday Park (yes, there is a pattern here) then back to Auckland to catch our New Zealand Air flight to Wellington. Author's Note: We deviated again to Hare and Turtle and this time we got the buns!
Whew! That's a lot! Come back to join us in Wellington, New Zealand!